About Waterville
Colby is located in Waterville, Maine, population approximately 15,000, situated atop Mayflower Hill.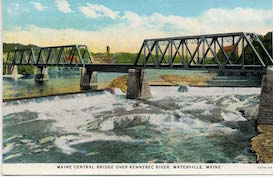 Downtown Waterville is host to independent bookstores, restaurants, coffee shops, and a fantastic independent movie theater. It is approximately 75 minutes from Portland (the largest city in Maine) and just under 2 hours from Acadia National Park. The campus itself is 714 acres of beautiful Maine countryside, including the 128-acre Perkins Arboretum and Bird Sanctuary, and miles of walking and running trails. The campus is also home to the Colby Museum of Art, the largest art museum in the state of Maine.
The region enjoys a mild climate, even during the summer, with pleasantly warm days (highs around 80F / 27 C) and cool evenings (lows around 60F / 15C) in July and August.
Read more about Waterville and the surrounding area at Colby's website.