2011 Classes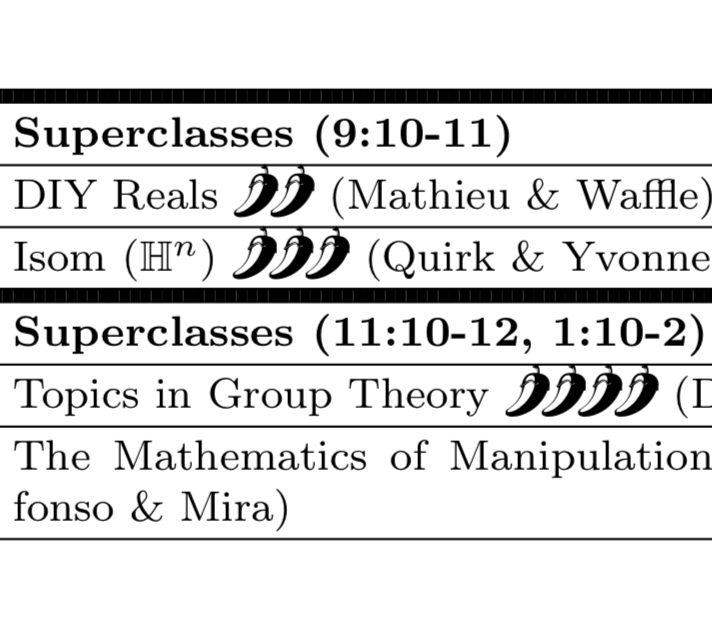 Here is an overview of our courses from this summer. You can also see a grid version of the 2011 global schedule.
Algebra
Adventures in Group Theory
Algebraic Geometry
Commutative Algebra
Counting Algebra with Generating Series
Doubly Infinite Laurent Series
Freedom
Group Theory
Groups in Action: Finite Rotational Symmetries
Introduction to Ring Theory
Linear Algebra
Partially-Ordered Sets and Möobius Inversion
Planar Algebras
Topics in Group Theory
Analysis
Analysis on the Hyperreals
Complex Analysis
Discrete Calculus
Do-It-Yourself Real Numbers
Metric Spaces and Real Analysis
Multivariable Calculus Crash Course (MC3)
Transcendental Numbers
Applied Math
Collective Rationality
Complex Dynamics
Mathematics of Manipulation: Democracy, Power, and Marriage Proposals
Special Relativity
Tensor Products
The n-body Problem
Colloquium: Matings of Polynomials
Combinatorics
Combinatorial Game Theory
Counting with Generating Series
Flows on Graphs
Hyperplane Arrangements
Introduction to Graph Theory
Matroids
Matroids II
Perfect Graph Theory
Spectral Graph Theory
The Conway Hour
Colloquium: John Conway
Colloquium: Möbius Inversion and Colorings of Graphs
Colloquium: The magic of expanders
Computer Science
Calendrical Calculations
Mathematical Formulas and the P vs. NP Problem
Probabilistic Programs: A Foundation for Artificial Intelligence
Proofs are Programs
Quantum Computation
Colloquium: Topological Quantum Computation
Geometry
Isom(Hn)
Combing the Sphere and Vector Fields
Conformal Geometry of the Sphere
Convex Polytopes
Cubic Curves
Ehrhart
Paper folding construction
Tangent Spaces and Metrics on the Sphere
The Gauss Circle Problem
The Geometry of Metric Spaces
Thirteen Ways of Looking at a Projective Plane
Colloquium: Isoperimetric Inequalities
Logic/Set Theory
Gödel's Incompleteness Theorems
Infinite Trees
Infinity and Beyond
Set Theory as a Foundation for Mathematics
The Category of Sets
Colloquium: How do we know that 2+2=4?
Number Theory
p-adics
Diophantine Equations
Introduction to Number Theory
The Riemann Zeta Function
Colloquium: The curious case of xn+1 = kxn(1-xn)
Problem Solving
Basic Problem Solving
Intro to Problem Solving
Olympiad Problem Solving
Problem Solving
Topology
Covering Spaces and the Fundamental Group
Knotty Groups
Point Set Topology (in Four Weeks)